Details
BRAND NEW INTERCOOLER RENAULT CLIO / CAPTUR / DACIA DOKKER / DUSTER / SANDERO 144967634R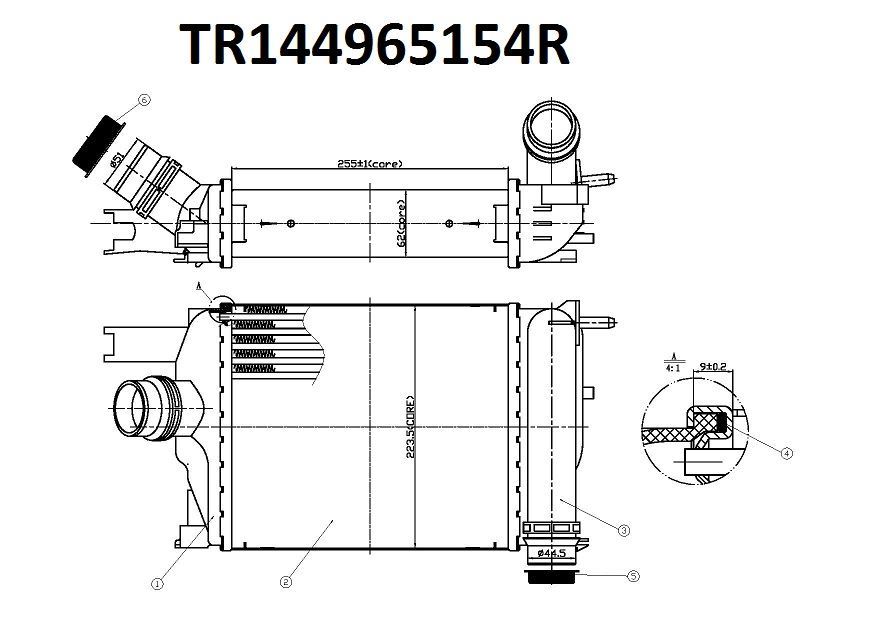 BRAND NEW INTERCOOLER RENAULT CLIO / CAPTUR / DACIA DOKKER / DUSTER / SANDERO 144967634R


CARS : RENAULT & DACIA


QUANTITY : 1
Brand New, Excellent Quality, Boxed Dacia Dokker / Duster / Lodgy / Logan / Sandero / Renault Captur
Clio / Clio Grandtour / Dokker / Duster / Lodgy / Logan / Sandero
Symbol / Thalia Complete Turbo Intercooler.



Suitable for:


Manual and automatic vehicles, with and without air conditioning.


THIS IS A HIGH QUALITY AFTERMARKET PART



FROM OEM MANUFACTURER



OEM Part Numbers :
14461B680C, 144965154R, 144966051R, 144967634R


ompatability Chart is for the reference only.
The best way to check compatibility is to check the Part Number on your old unit if possible.
OR
to contact your main dealers for the required part number
Our SKU :
TR144965154R_313

For the following Cars :


Description
ModelYear
BodyType
CCM
HP
KW
Dacia Dokker --

1.2 TCE
[2012-2018]
Estate
1197
115
85
Dacia Dokker --

1.5 dCi
[2012-2018]
Estate
1461
75
55
Dacia Dokker --

1.5 dCi
[2012-2018]
Estate
1461
90
66
Dacia Dokker --

1.6
[2012-2018]
Estate
1598
83
61
Dacia Dokker --

1.6
[2012-2018]
Estate
1598
102
75
Dacia Dokker --

1.6 LPG
[2012-2018]
Estate
1598
102
75
Dacia Dokker --

1.6 LPG
[2012-2018]
Estate
1598
83
61
Dacia Dokker Express --

1.2 TCE 115
[2012-2018]
Box
1198
114
84
Dacia Dokker Express --

1.2 TCE 115
[2012-2018]
Box
1197
116
85
Dacia Dokker Express --

1.5 dCi
[2012-2018]
Box
1461
75
55
Dacia Dokker Express --

1.5 dCi
[2012-2018]
Box
1461
90
66
Dacia Dokker Express --

1.6
[2012-2018]
Box
1598
83
61
Dacia Dokker Express --

1.6
[2012-2018]
Box
1598
102
75
Dacia Dokker Express --

1.6 LPG
[2012-2018]
Box
1598
83
61
Dacia Dokker Express --

1.6 LPG
[2012-2018]
Box
1598
102
75
Dacia Duster --

1.5 dCi
[2010-2018]
SUV
1461
109
80
Dacia Duster --

1.5 dCi
[2010-2018]
Box
1461
109
80
Dacia Duster --

1.5 dCi 4x4
[2010-2018]
SUV
1461
109
80
Dacia Duster --

1.5 dCi 4x4
[2010-2018]
Box
1461
109
80
Dacia Lodgy --

1.2 TCE
[2012-2018]
Estate
1197
115
85
Dacia Lodgy --

1.5 dCi
[2012-2018]
Estate
1461
90
66
Dacia Lodgy --

1.5 dCi
[2012-2018]
Estate
1461
107
79
Dacia Lodgy --

1.5 dCi
[2012-2018]
Estate
1461
110
81
Dacia Lodgy --

1.6
[2012-2018]
Estate
1598
83
61
Dacia Lodgy --

1.6 LPG
[2012-2018]
Estate
1598
83
61
Dacia Lodgy --

1.6 LPG
[2012-2018]
Estate
1598
102
75
Dacia Lodgy --

1.6 SCe 115
[2012-2018]
Estate
1598
102
75
Dacia Logan MCV MK II 1.5 dCi
[2013-2018]
Estate
1461
75
55
Dacia Logan MCV MK II 1.5 dCi
[2013-2018]
Estate
1461
90
66
Dacia Logan MCV MK II 1.5 dCi
[2013-2018]
Estate
1461
84
63
Dacia Logan MK II 1.5 dCi
[2012-2018]
Saloon
1461
75
55
Dacia Logan MK II 1.5 dCi
[2012-2018]
Saloon
1461
90
66
Dacia Logan MK II 1.5 dCi
[2012-2018]
Saloon
1461
84
63
Dacia Sandero MK II 1.5 dCi
[2012-2018]
Hatchback
1461
75
55
Dacia Sandero MK II 1.5 dCi
[2012-2018]
Hatchback
1461
90
66
Dacia Sandero MK II 1.5 dCi
[2012-2018]
Hatchback
1461
84
63
Renault Captur J5_

1.2 TCE 120
[2013-2018]
Hatchback
1197
120
88
Renault Captur J5_

1.2 TCE 120
[2013-2018]
Hatchback
1197
118
87
Renault Clio Grandtour MK IV 1.2 16V
[2013-2018]
Estate
1149
73
54
Renault Clio Grandtour MK IV 1.2 TCE 120
[2013-2018]
Estate
1197
120
88
Renault Clio Grandtour MK IV 1.2 TCE 120
[2013-2018]
Estate
1197
118
87
Renault Clio Grandtour MK IV 1.5 dCi 110
[2013-2018]
Estate
1461
110
81
Renault Clio Grandtour MK IV 1.5 dCi 75
[2013-2018]
Estate
1461
75
55
Renault Clio MK IV 1.2 16V
[2012-2018]
Hatchback
1149
73
54
Renault Clio MK IV 1.2 16V
[2012-2018]
Hatchback
1149
75
55
Renault Clio MK IV 1.2 TCE 120
[2012-2018]
Hatchback
1197
120
88
Renault Clio MK IV 1.2 TCE 120
[2012-2018]
Hatchback
1197
118
87
Renault Clio MK IV 1.5 dCi 75
[2012-2018]
Hatchback
1461
75
55
Renault Clio MK IV 1.5 dCi 75
[2012-2018]
Box
1461
75
55
Renault Dokker --

1.5 dCi
[2013-2018]
Box
1461
90
66
Renault Logan I MK I 1.5 dCi
[2004-2012]
Estate
1461
86
63
Renault Logan I MK I 1.5 dCi
[2004-2012]
Saloon
1461
86
63
Renault Logan I MK I 1.5 dCi
[2004-2012]
Estate
1461
90
66
Renault Logan MK II 1.5 dCi
[2013-2018]
Estate
1461
84
62
Renault Logan MK II 1.5 dCi
[2013-2018]
Saloon
1461
84
62
Renault Logan MK II 1.5 dCi
[2013-2018]
Estate
1461
90
66
Renault Sandero/Stepway MK II 1.5 dCi
[2013-2018]
Hatchback
1461
84
62
Renault Thalia MK II 1.5 dCi
[2008-2013]
Saloon
1461
75
55
Renault Thalia MK III 1.5 dCi
[2013-2018]
Saloon
1461
90
66
Please check the picture or part No. before placing an order
Additional Information
| | |
| --- | --- |
| SKU | TR144965154R_313 |
| Year | N/A |